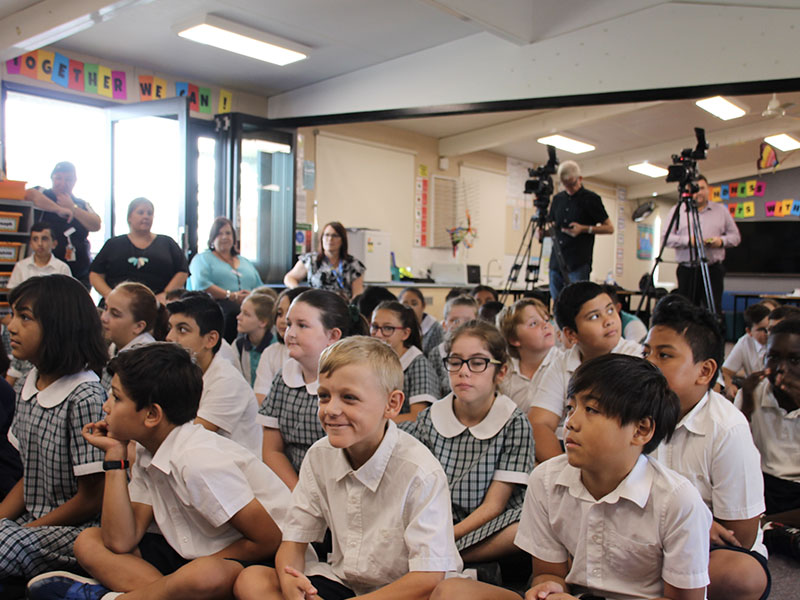 Year 5 and 6 students recently questioned Catholic Education Diocese of Parramatta Executive Director Greg Whitby about some of the big issues in education. Homework, bullying and school shoes were hot topics when Holy Family Primary, Emerton hosted the second ever Chatterbox Live.
Chatterbox Live is a forum that allows students to put Catholic Education Diocese of Parramatta Executive Director Greg Whitby on the spot about what matters to them at school. Chatterbox is also live streamed through YouTube, which allowed for students from Trinity Catholic Primary, Kemps Creek; Holy Family Primary, Luddenham; Our Lady of the Rosary Primary, St Mary's and Holy Spirit Primary, St Clair to join in the fun.
It was straight into the tough topics with the first question: "is school the be all and end all?"
"Our purpose is to make sure students become good contributors to society and that means they need to have a life outside of school too,'' Mr Whitby responded.
Students were keen to hear Mr Whitby's thoughts about whether students need more time outdoors. "We want each and every student to be happy and healthy, which means students need to spend some time enjoying the outdoors. Our health and well being is very important when it comes to our learning,'' he said.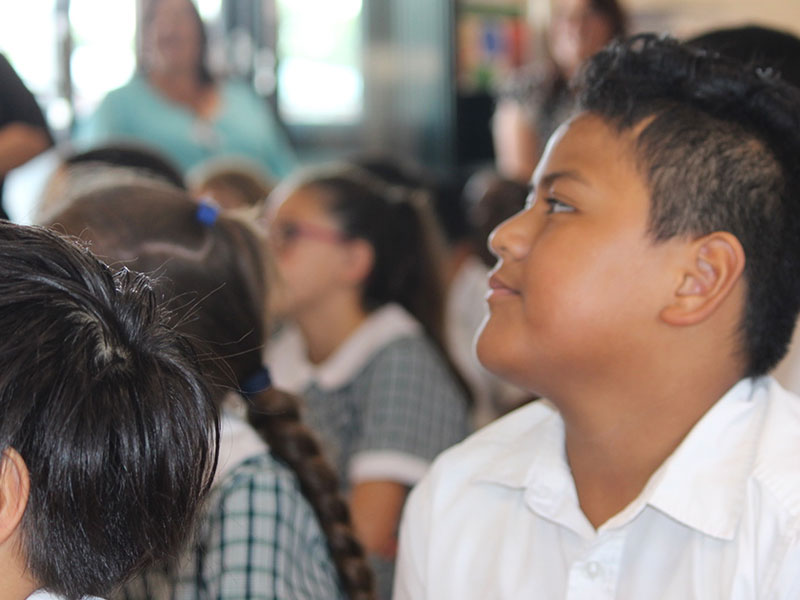 Mr Whitby was also asked about wearing school uniforms, and especially whether you need to wear shoes at all? "I think uniforms make it easier to get ready for school. Sometimes we do go overboard regarding school uniform policies. I like to keep it simple and the cost affordable," he said. With regards to school shoes, Mr Whitby said "if it works, take your shoes off!"
In answer to whether schools can have a Pet Day, Mr Whitby responded enthusiastically. "I can't make it mandatory as that would be a discussion for each school, however, I think it would be wonderful for students and teachers to bring a pet to school. In fact, it was our Bishop who said the animal kingdom is very important. Schools with the name 'St Francis' have been known to have Pet Days,'' he said.
Mr Whitby was also asked whether students should do their homework. "Homework is set for students for them to do better at school and I think it is something which always needs to be completed," he said.
The discussion also went to technology in schools, which was acknowledged as "a part of normal life." Mr Whitby observed: "It is such a powerful tool and as it gets more advanced schools need to be able to keep up with it."
The discussion concluded with a question about how we can prevent bullying in our schools. "I think it is an issue which everybody needs to be responsible for. There is nothing wrong in telling a responsible adult about what is going on,'' Mr Whitby said.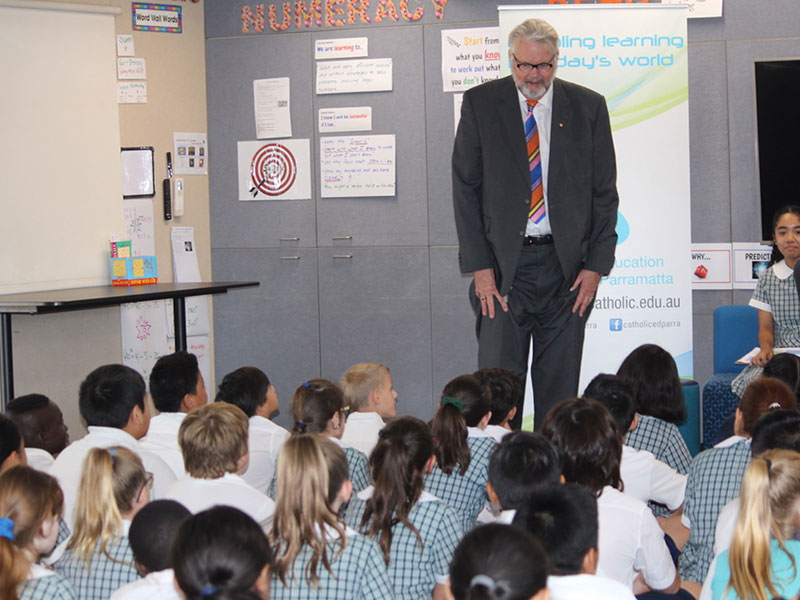 Holy Family Primary Assistant Principal Paul Battikha said it was a wonderful opportunity to see the students in such an open and honest forum with CEDP's Executive Director Greg Whitby.
"I especially liked the wellbeing question around bullying and the emphasis on treating each other the same way as we like to be treated. I encourage other schools to take part in this wonderful initiative which gives students a chance for their voices to be heard,'' Mr Battikha said.